Why – Prose for Thought entry #Prose4T
Written aged 14/15 in 1992. This is the first poem that will be published in my poetry book.
Birds of the night, pills
silhouetted against the rising colours of the day,
fly home.
Morning flickers first light onto the peaceful dreamers
as they are withdrawn from their blue depth.
Perfume of the awakening lilly fills the air.
And love shines on sleepy rose buds.
And pain rips its way through the trees
And tears make the flowers grow
And now, you know why I cry.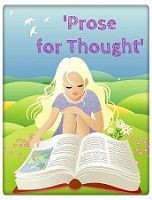 Powered by Linky Tools
Click here to enter your link and view this Linky Tools list…